Arrows 15U AA Classic
Friday, July 1, 2022 to Sunday, July 3, 2022
---
Winners of the 2022 15U Arrows Classic AA Tournament - The Stellarton Albions!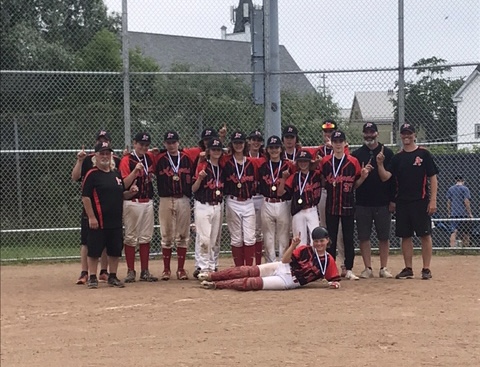 ***Update as of 07/02/2022***
Thanks to everyone for their participation and tremendous play over the weekend!
Final Standings for the preliminary round can be found at LINK
Semi Final 1 will be played at Carl Morash #1 on Sunday at 10:00am between Stellarton (Home Team as higher seed) and Summerside (Visitors)
Semi Final 2 will be played at Carl Morash #2 on Sunday at 10:15am between Fredericton Blue (Home Team as higher seed) and Hammonds Plains (Visitors)
Winner will be the visitors against Arrows in the Final on Sunday at 2:00pm at Kinsman!
Welcome to the 15U AA Arrows Classic!
The inaugural Arrows Classic will take place on Canada Day Weekend and will be held at Carl Morash Fields 1&2. There are 2 divisions - teams from NS's Bluenose League will make up the Nova Scotia Division and our guests from New Brunswick and PEI will make up the Atlantic Division.
Each team will play 3 games against teams from the other division to ensure that we play a maximum amount of games against unfamiliar opponents
Current Pitch Counts and Rules can be found here - Current Pitch Counts and Rules
Defensive Runs/Defensive Inning Calculator can be found here - Calculator
Rules - All Games will follow Baseball Nova Scotia Rules of Play - below are for quick reference but are not contrary to BNS unless specifically called out in BOLD
1.0 Rosters
1.1 - All participating teams must have a copy of their roster submitted online and hard copy on hand for all games. Each team was sent a login and password for their own microsite that will allow them to submit their roster. The main tournament website is Arrows Classic U15 AAA Tournament Site and the microsites can be viewed from there via 'Admin Login'
1.2 - All participating teams must have at least 12 players rostered
2.0 Game Play
2.1 - Shoes with metal Cleats are allowed
2.2 - A CSA approved double earflap helmets, in good repair, are required to be properly worn by players while they are on deck, at bat and on the bases in all age categories. Form fitting helmets that do not have the attachment for a strap are permitted. Chinstraps are optional for 15U
2.3 - The C.F.A.B rules require catchers in all age categories to wear CSA approved and properly fitted protective helmet and mask while catching
Note: This includes practice and warm up situation such as the bullpen or between innings. Coaches must wear a CSA approved and properly fitted protective helmet and mask in all practice and warm-up situations, as well
2.4 - BNS does not permit defensive players (other than the catcher) to wear helmets without prior written permission of the BNS Executive
2.5 - Under no circumstances are cracked or damaged helmets to be used. The umpire has the authority to check all helmets and eject any that are deemed to be unfit
2.6 - 15U - In all levels (AAA, AA, A) Only wood bats, bamboo bats and wood composite bats will be allowed. Wood composite bats include wood bats with fiberglass sheathing and wood barreled bats with composite handles. Wood composite bats do not include any bat that has any metallic component
Females playing on all boys teams at this level must adhere to rule 5.1.6.4. If the team consists of all female player's they will be permitted to use an aluminum bat with a maximum weight-length differential of -5. There are no restrictions on wood bats
2.7 - In accordance with modified rule 3.10 (a) (The Official Rules of Baseball), the host and not the home club makes the decision on starting any game in a tournament
2.8 - A courtesy runner may be used for a player who has, before the game, declared a health issue to the opposing coach and umpire. A batter after hitting the ball must reach at least first base on his or her own. Once play has stopped the batter who just became a runner may be replaced by the last offensive player declared out. Tournament Addition - In the case of an offensive catcher on base with 2 outs, the player may be substituted for a courtesy runner. The catcher must start the next defensive inning as a catcher unless player is injured and unable to take the field
2.9 - The mercy rule shall be applied in the following situations: a team is ahead; 20 runs after 3 innings (2.5 innings with the home team ahead), 15 runs after 4 innings (3.5 innings with the home team ahead) and 10 runs after 5 innings (4.5 innings with the home team ahead)
2.10 - Pitch Count - - BNS Pitch Count rules link (2022 BNS Handbook). Details on page 27
| | | | | | | |
| --- | --- | --- | --- | --- | --- | --- |
| Level | Daily Pitches No Rest | Daily Pitches (1 Day Rest) | Daily Pitches (2 Day Rest) | Daily Pitches (3 Day Rest) | Daily Pitches (4 Day Rest) | Daily Max |
| 15U | 1-35 | 36-50 | 51-65 | 66-80 | 81-95 | 95 |
Pitchers will not be permitted to exceed the maximum daily allowable number of pitches in any two-day period.
A pitcher's combined 3-day pitch count cannot exceed: 15U - 135 pitches
Pitch Counts will be used for all BNS sanctioned tournaments (Qualifications, Classification, Provincial, Atlantics, Bluenose league play & National Eliminations)
Warm up pitches & throws to other bases should not be included in the Pitch Count
In all Baseball Nova Scotia sanctioned competitions, once a pitcher is about to throw the pitch which would lead him/her to reach any one of the pitch count thresholds and the coach wishes not to throw this pitcher past this threshold, the coach will call time and indicate to the umpire this would be the last batter. Once that at-bat is completed, the pitcher must be withdrawn and be credited with only throwing the limit of pitches for that particular threshold.

For example, in 15U, if a coach wants a pitcher to be withdrawn at 35 pitches, they would signal to the umpire prior to the throwing of the 35th pitch. "Last batter". Once the pitcher finishes that batter, he/she would be withdrawn from the game and credited with throwing 35 pitches even if they threw any additional pitches to retire the batter

When the pitcher reaches their daily max, they may finish the batter
Should a pitcher throw under the daily threshold in their first game of the day, and pitches a second time that day, they must announce the last batter before the two game total reaches the daily threshold. For example, in 15U, a pitcher throws 20 pitches Saturday morning, and returns to pitch again in another game Saturday afternoon. If the coach wants to have the pitcher available for Sunday, the coach must announce the last batter before the pitcher throw pitch number 15 in game two (which would be 35 pitches on the day)
For the purposes of recording pitch count in situations where a pitcher was removed in the first game of a day after the last batter is announced, the pitches thrown will reflect the threshold (not the exact number of pitches thrown).

For example, in 15U, the last batter is announced as a pitcher reaches their daily 35 pitch threshold. The pitcher throws 37 pitches to complete the batter. The pitches shall be recorded as 35, and the pitcher would be eligible to pitch 60 pitches in game 2 that day

Players playing in an older age division must abide by the Pitch Count rules for the age division they belong in. Example: 13U eligible player pitching in 15U Provincials must abide by 13U pitch count rules
The Pitch Count Official must warn coaches of any pitcher reaching the daily minimum/maximum level of pitches
Official Pitch Count sheets should be kept during each tournament to prove compliance. BNS will supply these Pitch Count sheets. Hosts must be able to produce these if requested by BNS. Any changes made to the official pitch count sheets (a corrected error), is to be struck though with a single line and the change initialled by both coaches
If a team does not have any remaining players eligible to pitch in a game the opposing coach may designate a player who has yet to pitch in that game, this pitcher may not throw more than 30 pitches
The total number of pitches thrown by an ambidextrous pitcher are counted for the purpose of calculating pitch count, regardless of which arm or combination there- of is throwing
Once a player pitches in a game, he or she cannot catch for the remainder of the day
When a game is stopped by inclement weather or for any reason other than a mercy rule, that specific game has to be resumed at the point of stoppage. If Pitcher "A" is the starting pitcher of a game and has a pitch count below the first threshold, Pitcher "A" can then be used as a pitcher again for that particular game but considering he will be carrying the number of pitches thrown when the game stopped. This applies for a game that is resumed on the same day or on the next day.

Example: if Pitcher "A" threw 30 pitches at 15U Nationals, he will then be allowed to throw a maximum of 65 pitches when the game resumes. If Pitcher "A" had thrown 36 pitches when the rain started, he would not be eligible to pitch if that game is rescheduled for the next day as he needs his full day of rest. If the game is resumed during the same day, he can then come back as pitcher while carrying his pitches
2.11 - It is the responsibility of the OFFICIAL SCORER to track the pitches/ innings pitched for all those participating. All information regarding this shall be recorded and made available to any team requesting the information. If there is any discrepancy between a team's total and that of the official scorer, the OFFICIAL SCORER'S information will take precedence and is NOT subject to appeal. In the absence of an official scorer, the tournament chairman shall record the pitches/innings pitched by all pitchers and provide this information as requested
2.12 - If there is a violation of the pitching restrictions, the onus is on the official scorer or, in their absence, the opposing manager to bring the matter to the attention of the team at fault through the umpires. Only once the team has been informed of the violation or the impending potential for violation, the team is then responsible to ensure that the rules regarding pitching restrictions are followed. If after this point, the team continues to violate these rules, the team shall immediately forfeit the game
2.13 - Teams cannot score more than 5 runs per inning with the exception of the last inning being an open inning.
2.14 - The Umpire shall call out start of play time after the first pitch. No inning shall commence after 2.5 hours from start of play in non-elimination games
2.15 - A game consists of 7 innings. If the score is tied after 7 innings, there shall be one extra inning of play if time permits.The score will stay tied if there is no clear winner after one extra inning of play. For elimination games play will continue until a winner is decided
If the game is tied at the completion of regulation (7 innings), the following procedures will be implemented during the extra inning:

Each team will begin the extra inning (and any subsequent necessary extra innings) with a player on first and second, no out. (See example below to confirm who is on first and second).
The batting order of the extra inning or any subsequent innings will be determined by how the previous inning ended. (See example below to confirm who is at bat)
The traditional system of the visiting team hitting in the top of the inning and the home team hitting in the bottom of the inning will remain in effect until a winner is determined.
Example: If the last regulation innings with the #6 hitter having the last plate appearance (PA), then the extra inning begins with the #7 hitter at bat, and the #5 hitter at second base and the #6 hitter at first base. With the exception of beginning the inning with runners on first and second base with no one out, all other "official baseball rules" and "Canadian Rules" will remain in effect during extra innings required to determine a winner
2.16 - Home Team for preliminary games will be decided by a coin toss at home plate
3.0 - Standings
3.1 - 1st Place and 2nd Place in each division will be awarded based on points accumulated during play (2 for a win, 1 for a tie). If there is a tie between 2 teams then common opponents shall be compare.
1st Tie Breaker Total point accumulated against common opponent
2nd Tie Breaker - Where two or more teams are still tied, calculating to two decimal places, the team which has given up the fewest defensive runs per defensive inning played, will break the tie. Under this formula, the team haven given up the fewest runs per defensive inning finishes higher in the standings, the team having given up the second fewest runs per defensive innings next, and so on
3rd Tie Breaker - When two or more teams are still tied, calculating to two decimal places the team, which has scored the greatest number of offensive runs per offensive inning played, will break the tie. The team scoring the greatest number of runs per offensive inning finishes higher in the standings, the team having scored the second highest runs per offensive innings next, and so on
4th Tie Breaker - In the very unlikely event that two or more teams are still tied, the tie shall be broken by one coin toss conducted by the host